---
Article Posted on 09/13/2019
---
If you want to sort your information after is has been inputted in excel you can do that! By clicking the "sort & filter" button under the home tab you will open a list of options.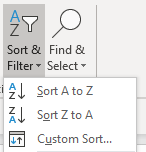 Sort A to Z will sort by the column you're clicked into alphabetically, Z to A will go backwards. If your data is numbers A to Z will change to "Smallest to Largest" and Z to A will change to "Largest to Smallest".  Custom sort will bring up the following box: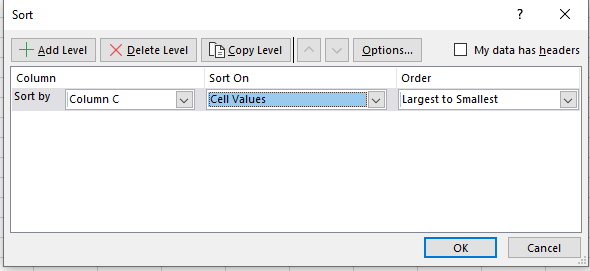 If your data has headers you will want to click the box on the upper right hand corner. Custom sort allows you to sort by one column and then add a level of sorting to tell it what to do next. (For example, you may have the first level sorting last name, and then sort by first name next.)
Custom sorting will also allow you to sort on the cell values, the cell color, the font color, or an icon created by conditional formatting.